Library Catalogs
Search Our Catalog | Your Account
Catalog of materials owned by 29 Winnefox Library System libraries in 5 counties.
WorldCat.org
Catalog of materials owned by more than 9,000 worldwide member libraries.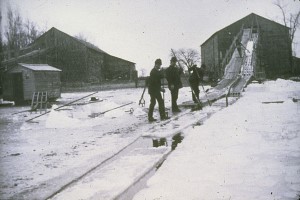 Featured Resource!
University of Wisconsin Digital Collections
Digitized letters, diaries, reminiscences, speeches, photographs, oral history tapes, manuscripts and maps.
Collections of local interest:
- Early Fond du Lac County People and Places
- Fond du Lac and Green Lake County Atlases, Directories, and Histories

Photograph courtesy of the Neenah Public Library.
Most Popular Resources
Overdrive
Downloadable audiobooks, electronic books, music and video for your PC, Mac or compatible portable device.
Be sure to sign in to see additional copies of popular titles purchased just for Winnefox patrons!
Help: Overdrive Help
Funded by the Winnefox Library System and the Wisconsin Public Library Consortium.
Novelist
Assists fiction readers in finding new authors and titles. (If you like... you'll like...)
Resource provided by Badgerlink.
Fond du Lac Vital Records Index
Note: This index has been superseded by the Winnefox Vital Records Index.
Obituaries, funeral notices, marriages and anniversaries published in Fond du Lac newspapers.
Joint project of Fond du Lac Public Library and the Winnefox Library System.
Gale Courses
Interactive, instructor led online courses available on a wide variety of topics.
Help: Getting Started Video
This resource is paid for by the Winnefox Library System.
University of Wisconsin Digital Collections
Digitized letters, diaries, reminiscences, speeches, photographs, oral history tapes, manuscripts and maps.
Collections of local interest:
- Early Fond du Lac County People and Places
- Fond du Lac and Green Lake County Atlases, Directories, and Histories