Library Catalogs
Search Our Catalog | Your Account
Catalog of materials owned by 29 Winnefox Library System libraries in 5 counties.
WorldCat.org
Catalog of materials owned by more than 9,000 worldwide member libraries.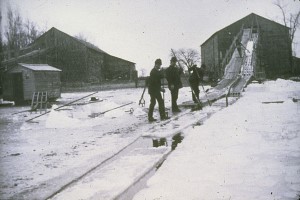 Featured Resource!
University of Wisconsin Digital Collections
Digitized letters, diaries, reminiscences, speeches, photographs, oral history tapes, manuscripts and maps.
Photograph courtesy of the Neenah Public Library.
Most Popular Resources
Overdrive
Downloadable audiobooks, electronic books, music and video for your PC, Mac or compatible portable device.
Be sure to sign in to see additional copies of popular titles purchased just for Winnefox patrons!
Help: Overdrive Help
Funded by the Winnefox Library System and the Wisconsin Public Library Consortium.
ABCMouse.com
Available in-library only.
Early learning site for children ages 2-7, covering reading and language arts, math, science, social studies, art, and music.

Novelist
Assists fiction readers in finding new authors and titles. (If you like... you'll like...)
Resource provided by Badgerlink.

Newspapers.com Library Edition - World Collection
Historical newspapers archive from the 1700s-2000s containing thousands of well-known regional, state, and small local newspapers in the United States and other countries.
Resource provided by Badgerlink.
Explora for Everyone
Easy-to-browse categories, organized by popular topics, provide everyone with a starting point for research.
Help: online tutorial
Resource provided by Badgerlink.